Which Above Ground Pool is Best for My Family?
Introduction
The days are longer, the weather's warmer, and the kids are nearly out of school. That's right — summer is just around the corner, which makes now the perfect time to start thinking about ways to relax and enjoy some quality time as a family!
Getting a backyard pool is a great way for you and your family to soak up the summer sun, lounge around on a floatie, or cool off on those scorching summer afternoons. Above-ground pools are a natural first step for those looking to dip their toes into owning a pool. But with so many options out there, you're probably asking, "Which above-ground pool is best for my family?" In this guide, we'll answer all your questions about above-ground pools so you know what to look for and how to choose one that best fits your yard, budget and family.
Why you should buy an above-ground pool for your family
So you've decided that you want to dive in and invest in a pool for your family to enjoy — great! One of the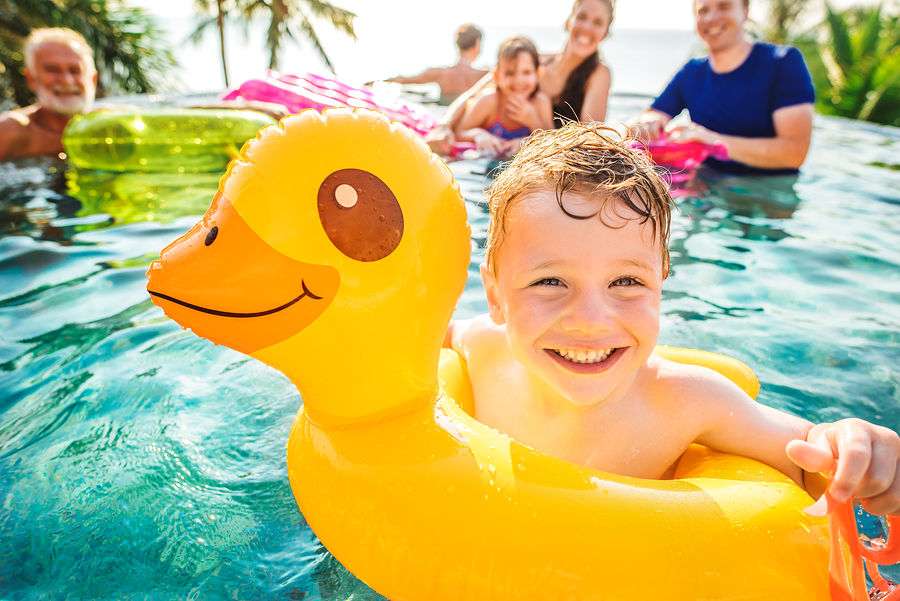 first decisions any potential buyer must make is whether to purchase an above-ground or in-ground pool. While there are pros and cons to each, above-ground pools are well-suited for families of all ages and size. Here are just a few reasons why an above-ground pool might be best for your family.
Affordable
What is one of the first objections people often raise when they're considering buying their own pool?
I shouldn't; I probably can't afford it.
But never fear — an above-ground pool is a great option for families who run a tighter budget but still want the fun and experience of a backyard oasis. Some quality pools can cost as little as a few hundred dollars. And, when you factor in the cost savings for installation, maintenance and upkeep, an above-ground pool will cost several thousand dollars less than its in-ground counterpart.
Easy to maintain
The last thing you want during a summer of relaxation is another thing on your to-do list. That's what makes above-ground pools so great — once you get a little experience, they're easy to maintain and you will be a pool pro in no time. You'll get to spend more time enjoying the pool with your family, and less time cleaning it.
Safety
Parents (especially of little kiddos) often have major concerns when it comes to the safety of having a pool in the backyard. You'll be able to rest easier with an above-ground pool since its walls are built — you guessed it — above the ground.
The higher entry point can help prevent accidental slips and falls into the water and above ground pools are easy to lock entry with the safety ladder. Just remember, even with these safety advantages, it's always important to supervise children while they're in and around a pool!
Variety
Above-ground pools come in a variety of shapes, sizes, and materials, practically guaranteeing that, for the right price, you'll be able to find one that provides everything your family needs for a summer of fun.
Backyards come in many different shapes, sizes and terrains as well, and while sometimes these limiting conditions can make it challenging to install a pool, you can usually find an above-ground pool that fits your unique yard.
If you're someone who isn't planning on staying in one place for too long but still would like to relax by your own pool, opt for an above-ground pool. Above-ground pools are capable of being dismantled, allowing you to pack it up and take it with you rather than leave behind a sizable investment.
What to consider when buying an above-ground pool
If you're ready to take the plunge and purchase an above-ground pool for your family to enjoy, you now have a tough decision to make — picking which pool is best for your family out of the hundreds of options out there.
I know, it sounds intimidating, but don't worry! Keep in mind the following factors when sorting through your options, and you'll be sure to choose a winner.
Price
Above-ground pools come in a wide range of prices depending on the size and quality you're looking for. Prices can vary from hundred to several hundred dollars for smaller, inflatable pools, up to several thousand dollars for larger, longer-lasting pools.
Remember, the cost of the pool will depend greatly on the size of pool and the materials it's built of, which affects the longevity of the pool. If you're wanting your pool to last for many years, it may be worth it to spend a bit more for a higher quality pool. If, however, you're only looking to get a few summer seasons out of your pool, an inexpensive inflatable pool might be your best bet.
Materials
As stated above, the material a pool is made of is a major factor to consider when purchasing a pool; not only does it affect the cost, but it also affects the longevity and maintenance needs of the pool.
Above-ground pools come in a variety of materials, including steel, aluminum, PVC, rubber, vinyl and resin — but more on these later.
Safety
When it comes to your family, you will want to think carefully about your pool's safety. Many pools will come packaged with some safety features — like a ladder, gates or fencing — that make accidents like falling in even more difficult.
Many pools have detachable ladders as well, allowing parents to put the ladder in a safe place once they're finished using the pool and preventing any adventuring tykes from trying to climb back in unsupervised.
You may also want to think about whether you'd like to add a pool deck around your above-ground pool, and how that might affect safety. If you do choose to add a deck, you'll want to treat your pool as though it were inground.
Size
Do you have a large family? Small family? Young children? Teenagers? Lots of grandkids? The size of your family will be a big factor in what type of pool you'll choose. Parents with lots of children or older kids will probably lean towards purchasing a larger, more spacious pool while parents with few or younger children might decide to start off with a smaller pool.
It's also important to take into consideration the amount of space and the landscape of your yard when choosing a pool. You must be able to have enough room in your yard for proper installation, so keep that in mind when searching for the perfect above-ground pool.
Extras
You may want to consider an above ground pool package as thay offer more than just the pool. Things like pumps, filters, ladders, and pool covers are all important pieces to keep your pool up and running through the hot summer months. Sure, you could get these items separately, but you'll often pay a lot less for these extras when they're bundled into the cost of the pool.
Types of above-ground pools
Inflatables
This is the least expensive, easiest to set-up option for above-ground pools. Inflatables are usually made of plastics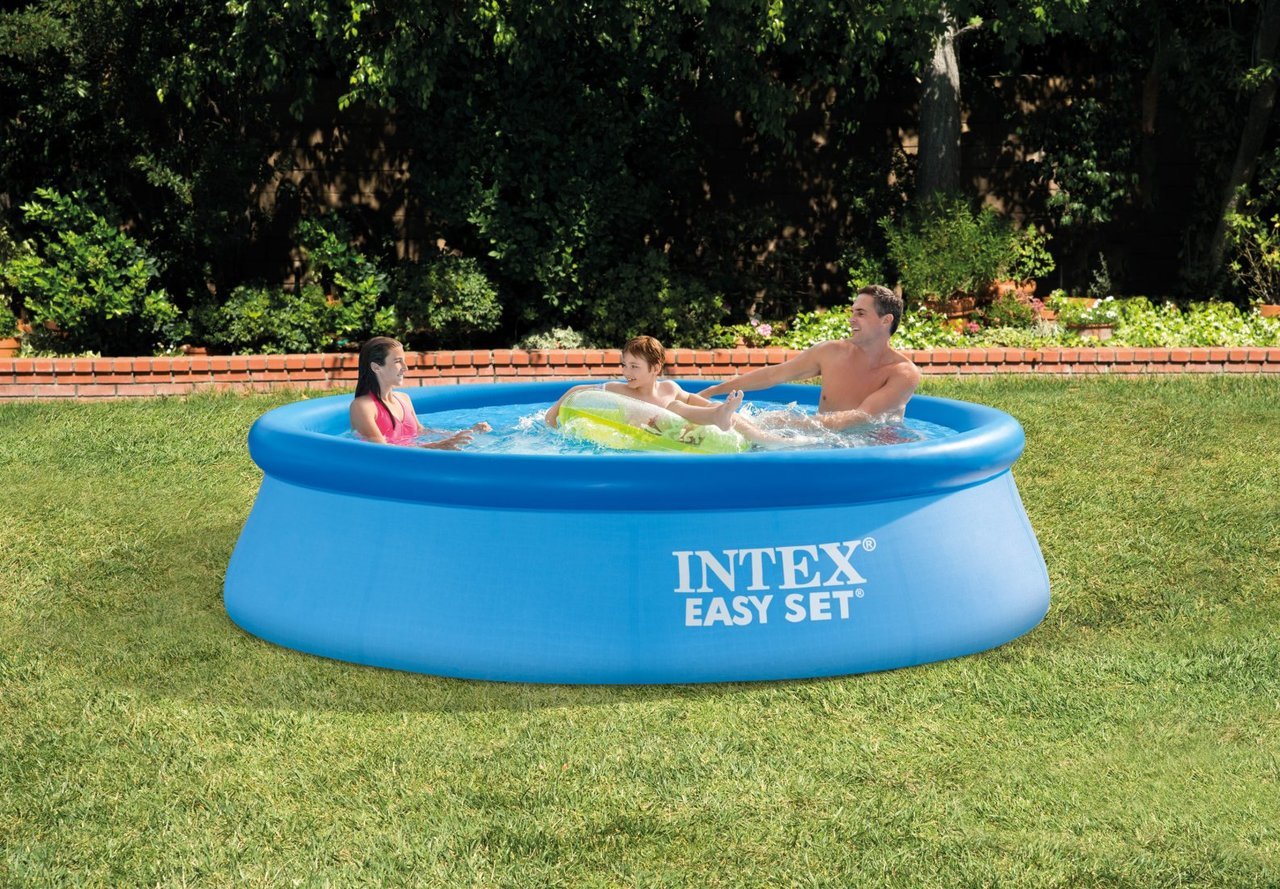 such as PVC, vinyl or rubber, and can range in size from kiddie pools to giant inflatables that can accommodate several adults at one time. The cost of an inflatable can be very reasonable, set-up takes only minutes, and if you do need to move, they're easily emptied, deflated, stored, and transported.
Because they are only made of plastic, inflatables typically last only a few seasons, and they're not as sturdy as other types of above-ground pools. However, this can make them a great start for families with young children, since inflatables are a smaller investment and you can upgrade after a few years as your children grow.
Pros:
●Inexpensive
●Quick and easy set-up
●Easily stored and transported
Cons:
●Will only last a few seasons
●Harder to keep clean small pump and filter system
●Not as sturdy as other types of above-ground pools
Frame Set pool
A frame set pool is made up of both steel and plastics such as PVC, vinyl or rubber. The walls are made up of plastics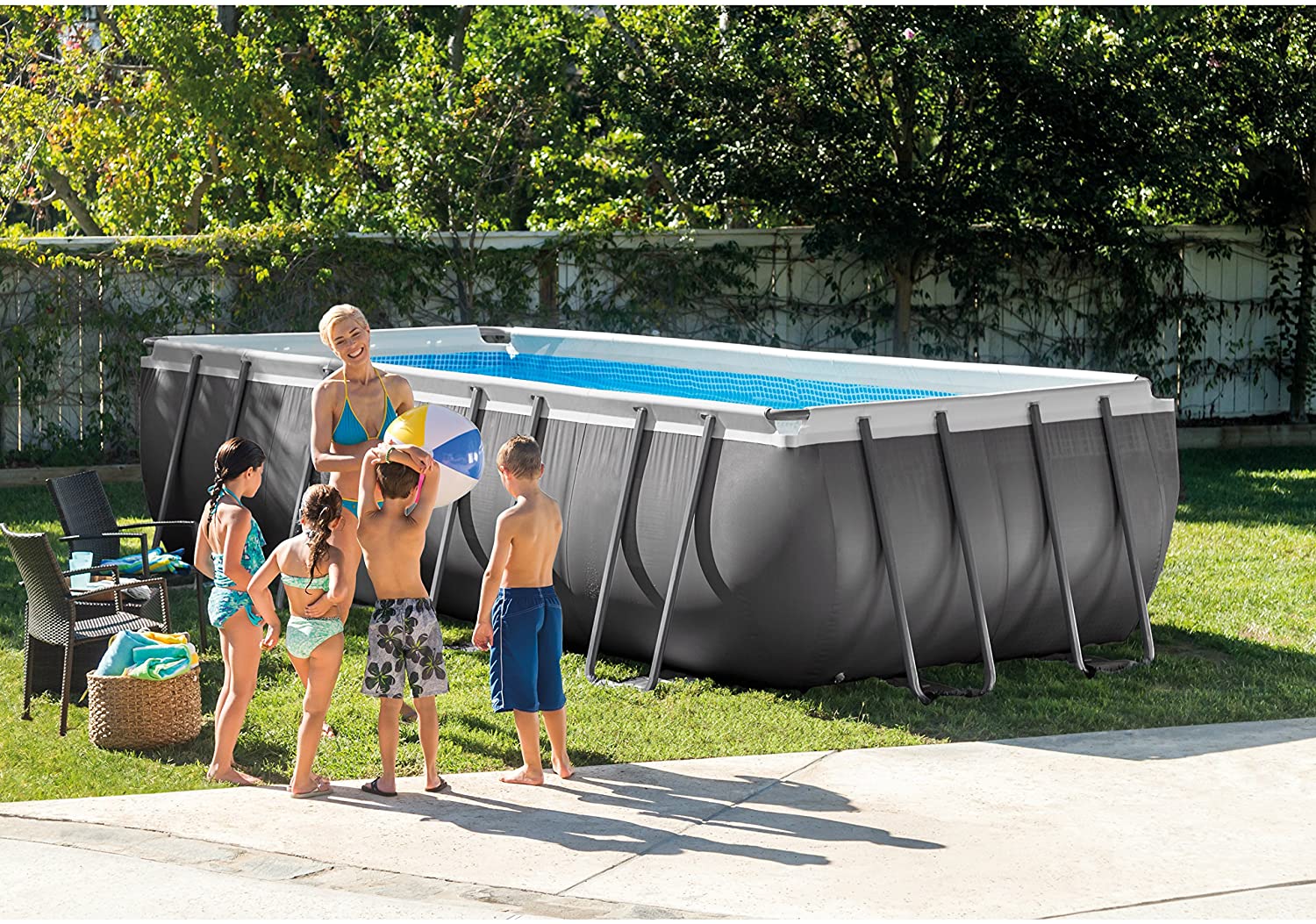 such as PVC, vinyl or rubber and the support frame is made of steel poles.
This type of above ground pool is very popular today and are great for families that want a little more than an inflatable, but don't want to quite step up into the steel walled pools. With a frame set pool you have more choices in shapes and sizes of the type of pool you can buy.
Pros:
●Still relative inexpensive
●Comes in a variety of styles of oval and round
●More sturdy than inflatable pools
Cons:
●Not as sturdy as a steel walled pool
●Not recommended to leave up in the cold weather winter location
Steel pool
Steel above-ground pools are a bit pricier than inflatables or frame set, but well worth the investment if you're looking for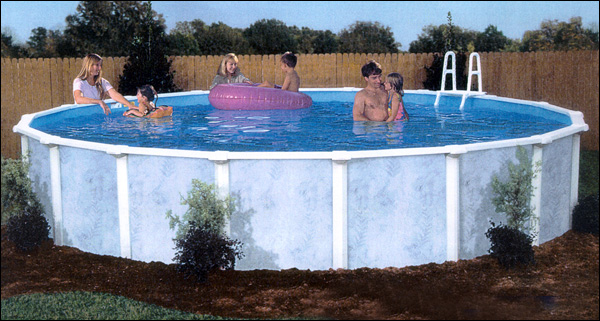 strength and durability in your pool. These pools are built from strong material that is less likely to leak, especially if the pool is set-up professionally. Often considered the strongest type of above-ground pool, a steel frame is great for families who are a bit rougher and tougher (think teenagers) while swimming together. The biggest downside to a steel pool is that it can be susceptible to corrosion, but purchasing a galvanized steel pool should prevent rusting from being a problem.
Pros:
●Built from strong material meant to last
●Less likely to leak, steel walls
●Easy maintenance: after set-up, as this type pool will have a larger filter and pump
●Cost-effective for their durability
Cons:
●More susceptible to corrosion (purchase galvanized steel to avoid this)
●Metal can get hot in direct sunlight
●May require professional help to set up
Hybrid pool
A hybrid pool is made up of both steel and resin. Usually, the walls and uprights (verticals) are made up of steel and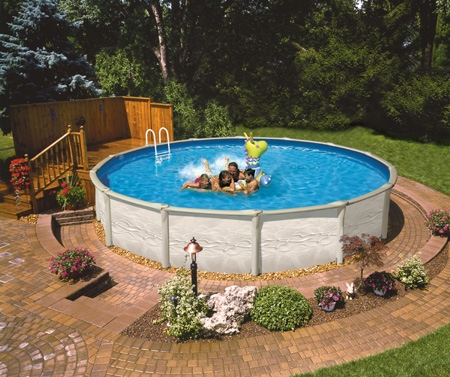 the top rail and caps are made of resin, although there are other combinations of parts made of resin and steel available. This is the most common hybrid pool configuration.
This type of above ground pool is one of the most popular around today and is great for families of all ages. Hybrid pools are long lasting, your kids will be able to enjoy the backyard pool for many summers.
Pros:
●You get the best of both worlds—resin is used for the parts most exposed to the water, while steel adds strength.
●Can come in a variety of styles
●Long-lasting
Cons:
●More expensive than an all steel pool
●Resin can fade after several years in the sun
Resin pool
Resin is a type of hard plastic that makes up the frame of this type of above-ground pool. While similar to steel pools,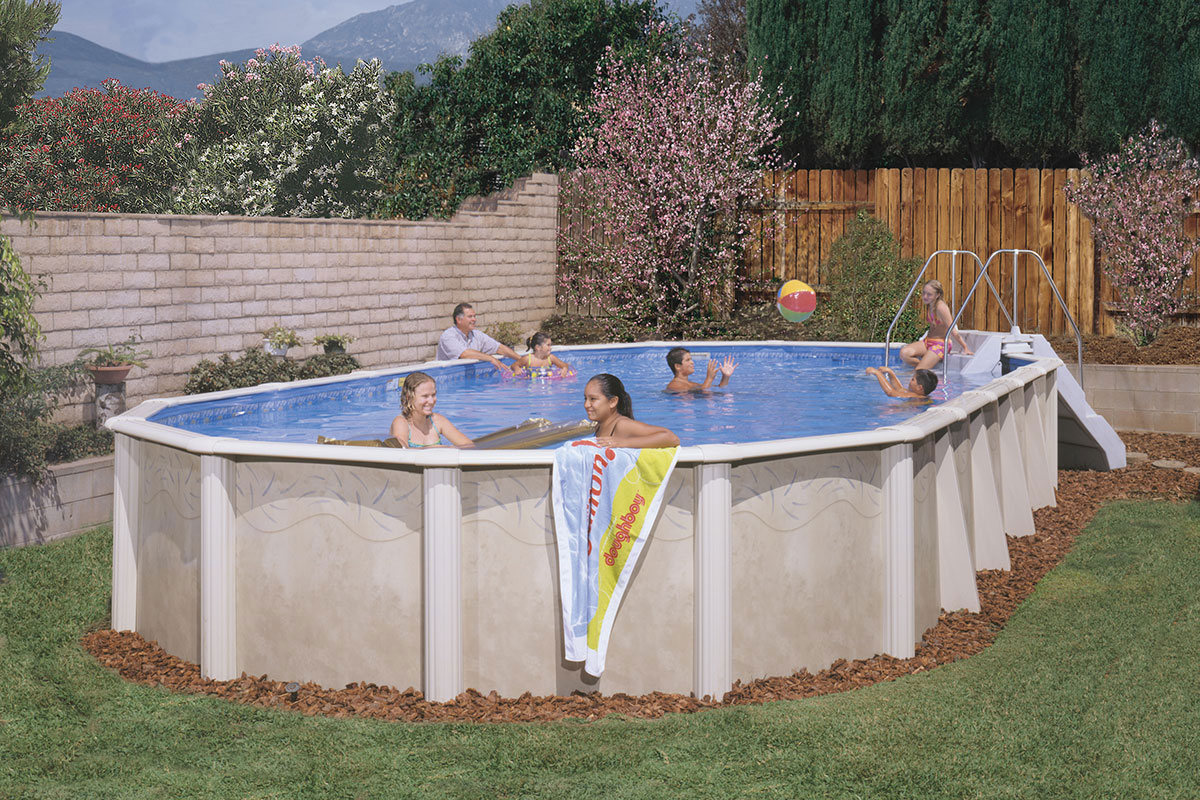 resin pools still have steel sides and resin top rail and caps, but they also have resin uprights (verticals) and bottom track (rail). The resin will not rust, oxidize or corrode like a metal pool could, and the material will not get as hot in the sun.
Resin pools are a great option for families of all ages. Resin pools are also incredibly durable, with most models lasting well over 15 years!
Pros:
●Frame will not rust, oxidize, or corrode
●Resin parts do not get as hot in the sun
●More attractive than steel pools
●Long-lasting
●Salt systems can be used to purify the water
Cons:
●More expensive than steel pools
●Resin can fade after several years in the sun
Conclusion
With so many options out there, choosing an above-ground pool for your friends and family to enjoy may seem like a daunting task, but it doesn't have to be. Take a few minutes, using this guide for reference, to list what your family's needs are, what your yard can accommodate, how much budget you have planned, and what sort of features you'd like to have in your pool. With a little time and research, you should be able to choose the perfect above-ground pool package for your family. If you would like some assistance in choosing your pool type or package please call us 888-518-7713.
One Source Pool Blog Posts
How to Choose the Right Pool Heater There's nothing quite like standing on your pool deck in a b

Introduction The days are longer, the weather's warmer, and the kids are nearly out of school. Th

Which Automatic Pool Cleaner Should I Buy? Break out the board shorts, unfold the beach chai